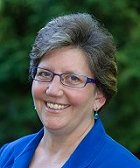 Sue Bronson M.S. is a mediator, trainer, and psychotherapist in private practice in Milwaukee, WI since 1983 mediating family, elder, and workplace disputes. Sue has over thirty years mediation experience helping people engage in quality conversations. Sue teaches mediation at the University of Wisconsin - Milwaukee School of Continuing Education. Sue currently is the Co-Chair of the ACR Task Force on Eldercaring Coordination. She was a charter member of the Wisconsin Association of Mediators, served on the Academy of Family Mediators board, Past Chair of the ACR Family Section and Past Co-Chair of the ACR Elder Section.




Contact Sue Bronson

Website: www.mediate.com/bronson

Reflective Practice: In Their Voices Video Conversation Project - Interview with Sue Bronson (03/20/20)
Mediator Sue Bronson doesn't rest upon the familiar, but takes what she knows and applies it in new innovative ways. In this 44 minute video, Sue and Michael Lang discuss screening techniques.
Come, Sit, Stay: Mediation Lessons from Dog Training (02/09/16)
Come, sit, stay are the basics of dog training. I believe they are also central to mediation. This brief article provides dog training tips that are also good ideas for mediators to follow.