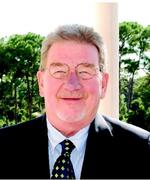 Ross P. Alander



Click here to email
Click for Full Website
5655 Gulf of Mexico Drive A 202
Longboat Key, FL 33629
USA
813.765.0978
MEMBER OF:



Description of Practice
Alander Consulting provides comprehensive Human Resources services to small/medium size businesses and nonprofits. We offer service as your "Human Resource Director On Call" or on a project, retainer, or hourly basis. I believe employees are real people and not human capital.See alanderconsulting.com for further information
Professional Background
Ross is a retired Senior Lecturer in Management Studies in the College of Business at the University of South Florida Sarasota-Manatee (USF S-M)(Retired) and was voted Outstanding Professor USF S-M, fall 2009 and spring 2012. Ross has a bachelor's degree in social science and economics and a master's degree in Labor and Industrial Relations from Michigan State University and recently attended the Program on Negotiations at Harvard Law. In addition Ross is a member of the Labor Panel of the American Arbitration Association and the Florida Academy of Professional Mediators.
Ross has an extensive and comprehensive background in Human Resources and Organizational Development in health care, in the auto industry, professional employer organizations, with service companies, with professional groups, the public sector, and not for profits. Ross has held a number of management/leadership positions at the Oldsmobile Division of General Motors, including being a factory (foreman) supervisor. Moving into the area of health care, he served as Personnel Administrative Manager of E.W. Sparrow Hospital in Lansing and as Vice President of Human Resources at Lansing General Hospital (Michigan), then for 10 years as the Vice President of Human Resources and Organizational Development for Tampa General Hospital, where he led a team of 200 members.
Experience
Ross' areas of responsibility included general Human Resources, Affirmative Action, Compensation, Benefits, Labor Relations, Team Development, Parking, Safety and Security, Dietary, Customer/ Physician Relations, Volunteer Services, Library, Pastoral Care, Child Care, Organizational Development, Minority Business Enterprise and International Relations. Ross also directed and led the implementation of a comprehensive customer service culture for Tampa General. As a member of the Executive Team, Ross served on various hospital and board committees and task forces.
Labor Arbitrator with the AAA
Ross assisted in the coordination of the consolidation (from the Human Resources aspect) of four separate Tampa hospital merger/consolidations: St. Joseph's/Humana Women's, University Community Hospital/Centurion, Charter Tampa/Pasco, and St. Joseph's/South Florida's Baptist/Bay Care. In addition Ross has worked with employee leasing companies, including a start-up leasing company. Most recently, Ross facilitated the Human Resource factor in the start up of Hillsborough Kids, Inc. (HKI), a community-based child welfare organization. Ross works with or has worked with a number of organizations (nonprofits, for profits and public) and is committed to making every organization that he works with an Employer of Choice. Two of his clients have made the One of the Best Places to Work list in Tampa and Lakeland, Florida.
Degrees
Michigan State University
Masters Degree in Labor & Industrial Relations - 1974
Michigan State University
Bachelor of Science/Social Science - Economics - 1970 70+ hours negotiations training at the Harvard Law School
Training
| | | |
| --- | --- | --- |
| Dates | Trainer(s) | Title |
| Various | American Arbitration Association | |
| | Harvard Law School(negotiations) | |
| | National Academy of Arbitrators | |
Approach
Informal, relaxed. My motto/quote is "I need to understand before I am understood", St Francis of Assisi
Fees
Negotaible
Other Information
Ross has held numerous community leadership and/or chair positions including the Tampa/Hillsborough Urban League Board, the Suncoast Ronald McDonald House Board, United Way, Hillsborough County Human Rights Commission, National Conference of Christian & Jews, and the Tampa Coalition. Ross has been the recipient of the National Conference of Community and Justice Brotherhood and Sisterhood Award and an Outstanding Leadership Award from the Urban League. The former Governor of Michigan recognized him for his efforts on behalf of physically challenged citizens. Ross is the former Chair of the Hillsborough County (Fl.) Human Rights Board and a former member of the City of Tampa's Human Rights Board and currently on the Calendar Committee for the Hillsborough County School Board. Ross was a candidate as an interim member of the Tampa city council in 2006.
Areas of Practice
Education
EEOC
Employment
Health Care
Labor - Management
Organizational
Partnership
Workplace
Professional Services
Mediator
Arbitrator
Collaborative Professional
Facilitator
Online Mediator
Online Arbitrator
Fact-Finder
Mediator-Arbitrator
Mediation Consultant
Ombud
Conflict Coach
References available upon request.
This dispute resolution professional keeps professional liability insurance.