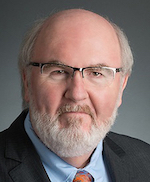 Daniel Rainey is a mediator, author and trainer, and a principal in Holistic Solutions, Inc., an organisation that offers training and consulting in a variety of conflict engagement modes. Until 2017, he served as the Chief of Staff for the US National Mediation Board and is the Co-Chair of IMI's Online Dispute Resolution Taskforce.




Contact Daniel Rainey

Website: www.danielrainey.us

Dan Rainey on the Universal Disclosure Protocol for Mediation (01/18/22)
Dan Rainey speaking about the launch of the Universal Disclosure Protocol for Mediation (UDPM).
Why Have a Disclosure Protocol for Mediation? (09/21/21)
I'll describe the process we've used and report on the status of the Universal Disclosure Protocol for Mediation (UDPM), but first let me address the fundamental question that prompted us to begin work in the first place: why do we need a universal protocol for disclosure in mediation?
Cyberweek 2020: Creating a Code of Disclosure for Online Mediators (11/07/20)
This Cyberweek 2020 session describes a suggested Code of Disclosure for Online Mediators to help modernize mediation ethics as we mediate online.
Creating a Code of Disclosure for Mediators (08/18/20)
This article argues for the creation of a code of disclosure for mediators, domestically and internationally. Creating a set of categories that constitute an adequate disclosure of process and approach would help parties understand mediation and would be less daunting than trying to create a universal code of conduct or global set of mediation standards.
4th Key-Professionalism: Create a Universal Code of Disclosure (07/20/20)
Universal mediation standards have been a controversial issue ever since the rise of mediation as a dispute resolution process.
5th Key-Technology: Take Advantage of ODR's Full Potential (07/15/20)
Online Dispute Resolution ("ODR") is now universal, especially since the Coronavirus pandemic began.
Thoughts on the Singapore Convention (12/06/19)
The Singapore Convention parallels the New York Convention for Arbitration by legitimizing mediation as a dispute resolution method for international commercial transactions.
ODR Theory and Practice: Table of Contents, Forward, Introduction & First Chapter: ODR Past, Present & Future (05/21/14)
As a service to the ADR and ODR fields, Mediate.com is honored to make the book "Online Dispute Resolution: Theory and Practice" by Mohamed S. Abdel Wahab, Ethan Katsh and Daniel Rainey ( Eds.) available. We here begin with the Forward, Introduction and First Chapter of "Online Dispute Resolution: Theory and Practice."
From Dan Rainey (10/19/13)
Mediate.com was in the "space" (online) for dispute resolvers before anyone else, and has served as a virtual meeting place, communication vehicle, and publisher as technology has moved more and more into the mainstream of ADR practice. Best wishes for 500 more, and 500 more, and 500 more, etc.
ODR and Government (05/01/13)
The topic at hand is the use of the Internet to govern, and the role that ODR can play in e-government. Our discussion of e-government will be divided into three main sections: What has changed?; What must government (and e-government) do?; and Where are e-government and ODR going?
ODR and Culture (04/13/13)
This chapter begins with some basic definitions of culture, then address the relationship between ODR technology and culture, and finally offers observations about what may be the short term future of intercultural exchanges mediated by online dispute resolution tools.
Online Dispute Resolution and the Development of Theory (02/28/13)
We are honored to make "Online Dispute Resolution: Theory and Practice" (Editors: Mohamed S. Abdel Wahab, Ethan Katsh & Daniel Rainey) available through Mediate.com. The book's twenty four chapters are being made available over twenty four weeks. We here offer the Second Chapter on "Online Dispute Resolution and the Development of Theory" by Daniel Rainey and Leah Wing.
Teaching Online Dispute Resolution: Results from a Survey of Students (08/02/10)
Working with student feedback, this article highlights changes in student attitudes toward ODR, and suggests some "best practices" for developing ODR courses.
The Culture in the Code (03/09/09)
In the United States, alternative dispute resolution (ADR) has become a routine, and sometimes even a dominant force in the resolution of disputes that traditionally would have gone through some formal, legal process. One observation from the United States will probably serve to make the point. The American Bar Association (ABA), the premier professional association for attorneys in the United States, now has as its largest interest group the Section on Dispute Resolution – a group within the ABA dedicated to dispute resolution outside the formal legal system.
BOOK REVIEW: Staying With Conflict: A Strategic Approach to Ongoing Disputes by Bernard Mayer (Jossey-Bass) (02/17/09)
Bernie Mayer has an uncommon ability to draw an argument in a few strokes that makes figures in our field pop out in sharp relief. He did it with 'Beyond Neutrality,' generating a thoughtful and wide-spread discussion about the essential posture of the intervener. He's done it again with 'Staying with Conflict,' this time bringing into sharp focus the question of whether the goal of "resolution," a part of the name that we most often use to label our field, is in fact an impediment to effective assistance to parties in conflict.