Angela Herberholz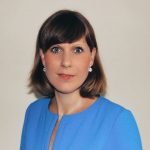 Angela Herberholz is a professional in the exhibition and events industry with a passion for dispute resolution. She is a trained and accredited mediator and volunteers her free time to support newly trained professionals and promote mediation globally. Angela worked at the ICC International Centre for ADR from 2010-2014 and co-founded the IMI's Young Mediators' Initiative (YMI) in 2010 which she still manages today. Angela is a citizen of Germany and France and is based in Paris.




Contact Angela Herberholz

Website: imimediation.org/the-ymi-team

Articles and Video:
3rd Key-Education: Ensure the Future Through Mentoring and Practice Programs for New Mediators (07/25/20)
Practicing mediators with advanced knowledge, skills and experience need to support the next generations of mediators to ensure a positive and vibrant future of mediation.
Help Shape the Next Generation of Mediators! (02/05/16)
Wherever we look, there is a variety of articles, blogs, keynotes and workshop topics all talking about the necessity to develop future leaders, understand the next generation(s) and attract the right talents. The mediation profession is no exception.