I want you to know that your site brings me more business than I would have ever imagined from a third party referral site. In my first 10 months, I received 20 phones calls about my services as a result of my involvement with Mediate.com. The majority of my referrals have resulted in new business. You should be very proud of yourself! Mediate.com is a great service to the mediator community and to the general public.
Robin Graine
Mediate.com is the most visited and linked-in mediation website.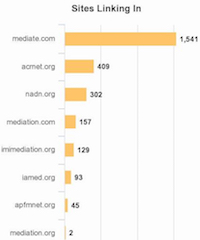 Mediate.com Premium Membership
If you are a professional mediator, join Mediate.com as a Premium Member and be listed at Mediate.com and at as many as 6 additional ADR Directories (no additional cost). Mediate.com is the most visited mediation website in the world!

Membership Summary
Premium Membership is for most professionals and includes the ability to professionally list yourself in the Mediate.com, OnlineMediators.com and 5 additional ADR Professional Directories (at no additional cost). Premium Membership includes:
Here are the 7 Professional Directories included in your Mediate.com Premium Membership:
Featured Membership includes all Premium Member benefits plus featured display of your services for your home town area code (plus additional area codes if desired). Full information is HERE.
Mediate.com Certification Options (for Premium and Featured Members) are described HERE.
Basic (Subscription) Membership is a "content membership," and includes comprehensive Mediate.com site access; a 10% discount on all courses at Mediate University, and receipt of This Week in Mediation, our weekly newsletter. A Basic Membership does not include professional directory listings, ADR liability insurance eligibility, nor participation in Mediate.com's monthly webinar series.
Join Mediate.com As A Premium Member:
Become a Featured Member:
Join Mediate.com as a Basic (Subscription) Member: