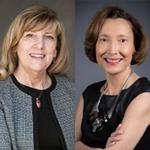 Mediation Path Silicon Valley, LLC
Sophia Delacotte and Linda Silveria

Click here to email
Click for Full Website
2021 The Alameda
Suite 102
San Jose, CA 95126
USA
(408) 717 2575
Description of Practice
Solving Family Disputes without going to court in order to reach a consensus that can benefit everyone is our motto. MPSV specializes in mediating any kind of family disputes arising out of trust & estate administration, wealth transfer, care of aging parents. We first focus on how to defuse participants' hard feelings towards one another in order to identify possible solutions. This way, everyone involved can play an active role in the mediation process. Our high mediation success rate relies mostly on the unique and completely innovative approach to problem solving we created. We offer our clients transparency and truthfulness. We both are committed and results driven.
Linda has been an attorney in San Jose, California since 1982. Her practice specializes in trust, estate planning, trust administration, elders protection, and probate. Linda routinely takes classes at Stanford in neuroscience, brain functioning, compassion, and graphic recording which has proven to be very useful in developing our leading edge approach to mediation.
Sophia is an Alumina of La Sorbonne Law School in Paris and is currently a real estate agent in Santa Clara County. She has dedicated part of her business to help and assist sellers in difficult situations such as foreclosure, divorce, and probate. She spent most of her professional career negotiating contracts and settlements in a large variety of situations. Both Linda and Sophia work to be the mediators who bring peace into the room.
Degrees
Linda:
Silicon Valley Bar Association, Member
Certified specialist – Probate, Estate Planning and Trust Law – State Bar of California
Santa Clara County Estate Planning Council, director
Northern California Super Lawyer
Bachelor of Law, Lincoln University, San Jose, CA
Sophia:
Post Graduate Degree in Civil Law, Sorbonne University, France
Master's Degree in Business Law, Assas Paris II University
Top 3 best rated realtors in San Jose, CA
Collaborative Practice Silicon Valley, members
Training
| | | |
| --- | --- | --- |
| Dates | Trainer(s) | Title |
| | Center for Understanding in Conflict | Working Creatively With Conflict |
| | Stanford Continuing Studies | Visual Thinling: Working with Pictures |
| | Stanford Continuing Studies | Adventuous Thinking |
| | Santa Clara superior Court | Trauma Informed |
| | Professor Adi Mizrahi | New Paths To Knowledge |
| | National Business Institute | Probate Boot Camp |
| | Stanford Continuing Studies | Professor Adi Mizrahi |
| | Stanford Continuing Studies | Negotiating Mastery |
| | Professor Adi Mizrahi | Professor Adi Mizrahi |
| | Stanford Continuing Studies | Aging and the Brain |
| | Collaborative Practice Silicon Valley | Collaborative Training |
| | Ria Severance, MA, LMFT, Jami Fosgate, JD and MaryAnn Aronsohn, MA, LMFT - | Using Motivational Interviewing in CDR |
| | County of Santa Clara Dispute Resolution Program | Mediation phases - BURST concept - Confidentiality & Neutrality |
| | Center for Understanding in Conflict / Center for Mediation in Law | Who Can You Trust? Self Reflection for Conflict Professionals Intensive |
Areas of Practice
Adult Family
Civil (general)
Elder
Estate Planning
Family
General
LGBTQ
Partnership
Probate
Real Estate
Trust Management
Professional Services
Mediator
Mediating Lawyer
Counselor
Estate Planner
Mediation Consultant
Strategic Planning
Collaborative Professional
Facilitator
Online Mediator
This dispute resolution professional keeps professional liability insurance.