I want you to know that your site brings me more business than I would have ever imagined from a third party referral site. In my first 10 months, I received 20 phones calls about my services as a result of my involvement with Mediate.com. The majority of my referrals have resulted in new business. You should be very proud of yourself! Mediate.com is a great service to the mediator community and to the general public.
Robin Graine
Mediate.com is the most visited and linked-in mediation website.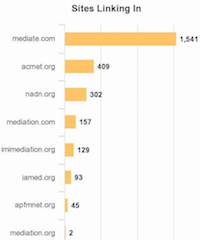 Additional Marketing Options

Mediate.com is the #1 mediation web site in the world. In additinal to our Membership, Featured Placement and Statewide Banners, note our Newsletter Service, Newsletter Announcement, MarketPlace and Calendar Placement opportunties.